LIFE TEEN HIGH SCHOOL MINISTRY
Sundays from 12:00 pm to 2:00 pm
Life Teen takes place in the Holy Trinity Pastoral Center. 
On Sundays, Life Teen meets from 12:00pm-2:00pm (right after the 11:00am Mass and right before the 2:00pm Mass in Spanish). 
LIFE TEEN REGISTRATION FORM can be filled out and e-mailed to Aaron Hostetter or brought to the Pastoral Center.  Teens are encouraged to follow Life Teen on Instagram!
Wednesday Life Teen, 4:00pm-6:00pm – Wednesday Life Teen is an optional weekly gathering that includes snacks, fellowship and exploring various faith topics of interest. Note: Please ensure teens are picked up right at 6pm on Wednesdays, as the Pastoral Center closes at that time in preparation for the 6:30pm Mass.
We also have these upcoming Life Teen events which requiring additional registration to participate.  For more event or registration info, email Aaron Hostetter.
Life Teen events with Fall registration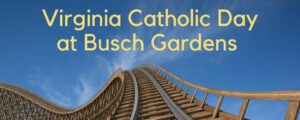 Catholic Day at Busch Gardens (October 7th) – Life Teen will be joining Catholic teens and groups from across the Diocese of Richmond for a day of fun and fellowship. The day includes admission to the park, Sunday Vigil Mass, and dinner as a Diocese.
Click the link to see the Busch Gardens Parent Letter with trip info
Click the link to see the Busch Gardens teen Permission Form
Turn in the permission form by the end of Life Teen (2pm) on Sunday, September 24th to secure the listed price.  The cost will increase after September 24th.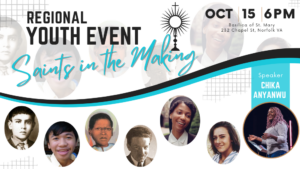 Regional Youth Event (Sunday, October 15th, 6:00pm-8:00pm) – Life Teen will join over 15 parishes in the Norfolk/Virginia Beach/Chesapeake area for our bi-annual Regional Youth Event. International Catholic speaker Chika Anyanwu will be speaking at the Basilica of St. Mary of the Immaculate Conception in Norfolk about some lesser-known modern Catholic saints and how their lives can inspire us in our faith. 
Note: Life Teen will not meet at noon on October 15th due to the Regional Event that evening. There is a Confirmation Parent meeting at noon at Holy Trinity on October 15th.  However, for Life Teen, teens should get dropped off at the Basilica at 6:00pm and then picked up at 8:00pm.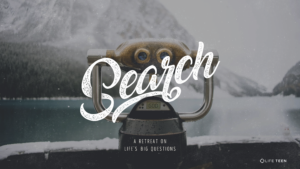 Life Teen Fall Retreat (Nov 3-5, 2023) – The annual Fall Retreat takes place at YMCA Camp Silver Beach on the Eastern Shore and is for all teens in grades 9-12. This retreat is one of the highlights of the year for Life Teen!
Cost is $100, and this includes food and lodging.  Make all checks payable to: Holy Trinity Catholic Church. See more information in the Parent Letter below.
Note: For Confirmation candidates, this retreat is mandatory. 
Fall Retreat Parent Letter Fall Retreat 2023 Parent Letter

Fall Retreat Permission Form Fall Retreat 2023 Permission Form

YMCA Camp Silver Beach Waiver Form YMCA CSB Waiver

Life Teen trips in Summer 2023 with Spring Registration:
– Steubenville Atlanta (July 11-14. 2024)
Steubenville Atlanta is a youth conference where about 3,000 high school teens from around the country will gather in Atlanta to encounter dynamic speakers, powerful prayer experiences and strong Christian community. It's truly an inspiring experience and one of our teens favorite trips every year! We will travel with the Diocese of Richmond. 
Deadline: To reserve your spot, turn in a $100 nonrefundable deposit by Feb 25, 2024.  Cash or checks payable to: Holy Trinity Catholic Church. 
Note: The cost for this youth conference is $475 per youth participant.  To defray the cost of the trip on your family, Holy Trinity is subsidizing $225 per teen, so that your cost for the trip is $250.  After your $100 deposit, you will have $150 due by the end of May.  Registration will be done online at a later date, so all that is required to reserve your teen's spot is the $100 nonrefundable deposit (due by Feb 25th).   
Check out what teens from Holy Trinity have said about their Steubenville Atlanta experience! Teen quotes from Steubenville ATL 
Life Teen Camp Covecrest (dates TBD) – Camp Covecrest is week-long Catholic summer camp in north Georgia. The Life Teen Sumer Camps staff plans, prepares, and facilitates the programming, liturgies and activities for each day. Each day you'll experience daily Mass, opportunities for the Sacrament of Reconciliation, and other powerful prayer experiences.  Our evening sessions, led by a dynamic speaker, will break open scriptural topics to lead your teens into a more authentic encounter with Christ. All of this alongside exciting ropes courses, an obstacle course, messy games, plenty of free time and more. Registration and a $100 deposit will take place in November 2023 once the camp date is finalized with Life Teen. 
Sacrament of Confirmation
In the Diocese of Richmond, the normative time to receive the Sacrament of Confirmation is currently someone who is entering "at least the tenth grade and be at least 15 years of age"(10th graders or 11th/12th graders who have not received the Sacrament of Confirmation). 
The requirements for Confirmation preparation include:
Participation in the Life Teen program during the school year on Sundays, Noon-2:00 pm
The Fall Retreat (November 3rd-5th) 
Two "Super Saturday" retreat days in the Spring (February 3rd & February 17th).
Please block out these dates, as these retreats are mandatory for Confirmation prep!
Catechism of the Catholic Church §1309: "Preparation for Confirmation should aim at leading the Christian toward a more intimate union with Christ and a more lively familiarity with the Holy Spirit – his actions, his gifts, and his biddings – in order to be more capable of assuming the apostolic responsibilities of Christian life. To this end catechesis for Confirmation should strive to awaken a sense of belonging to the Church of Jesus Christ, the universal Church as well as the parish community. The latter bears special responsibility for the preparation of confirmands."
Confirmation Parent Meeting – Oct 15th, 12:00pm
This meeting is in the Pastoral Center, and is for parents only. It will cover all the important details about the Sacramental preparation for Confirmation.
What is Life Teen?
Life Teen is Holy Trinity's Christian Formation program for 9-12 grades.  Life Teen is an international Catholic youth ministry and catechesis program that seeks to lead teens closer to Christ.  The Life Teen model of youth ministry is different from a classroom setting of catechesis in several key areas. 
Life Teen is not taught by individual catechists, but led by a CORE TEAM of adults who are active in the life of the parish and work each week praying for the teens, guiding them as mentors, and teaching the Catholic faith through formal teaching, small group discussions and in other Christ-centered conversations throughout the year.  Furthermore, Life Teen seeks to connect a young person to both the universal Church and our local parish.  To this end, Holy Trinity Life Teen seeks to be a faith community of teens and adult mentors with an immersive experience of learning the faith, praying together and participating in the sacramental life of the Church. 
Life Teen is 100% Catholic, teaching the totality of the Truth of our faith, challenging teens to live that same faith.  The Life Teen curriculum materials are in line with the USCCB guidelines for instructing youth.  Sacramental preparation for Confirmation (10th grade) is included during the Life Teen gatherings, in addition to supplemental times of preparation.
All 9th-12th grade members of the parish are invited to participate in the Life Teen program as a way to morally and spiritually prepare for college, the work force, adult parish life and married life after high school.  Coupled with fulfilling their Sunday Obligation of attending Mass each Sunday and Life Teen gatherings, we offer additional retreats and youth group activities throughout the year.